Taking a 3D object file and turning it to a plushie.
What i do is both simple and complicated. It all starts with a 3D object file of some critter or character from a video game. Pokemon of course fall perfectly into this category. Take Umbreon for an example.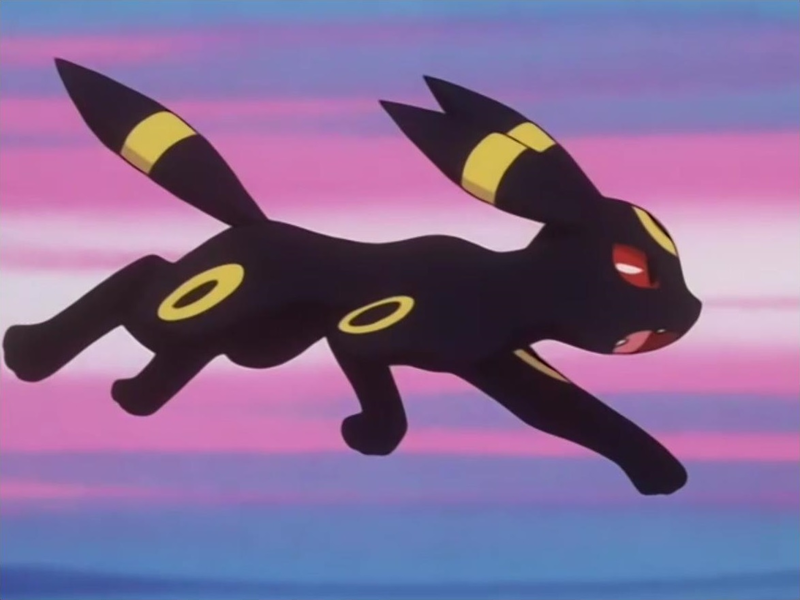 Most people should at least recognize the character as a pokemon. In truth, he is one of the evolutions of Eevee. Kind of a fox crossed with a cat. A perfect example to show what I do. So now, we know what Umbreon looks like, but where does this 3D part come in? Well, right from the start.
Above you can see what hides under the pretty textures. A whole lot of triangles and squares, all mashed up into the shape you want. Here is another example, this time Pikachu, pretty much everyone knows who he is.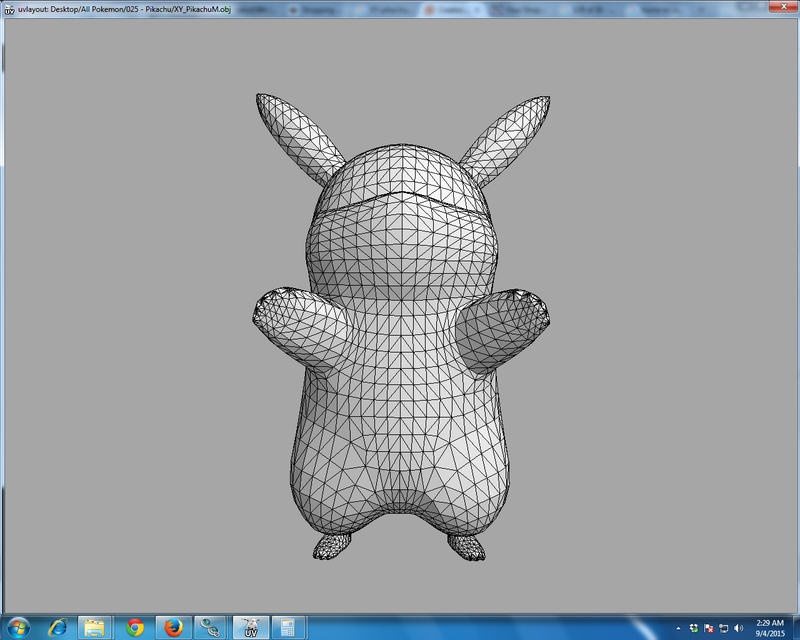 So, how do we go from this digital 3D model to a sewing pattern? Well it's pretty simple, as a matter of fact, people have been doing this very same thing since the dawn of the stuffed animal. Only they typically used clay or balled up newspaper.
The way a 3D model works, is the parts you see are actually paper thin, those parts can be cut off and flattened out. Of course anyone could take a digital machete hack a 3D object to pieces, but that doesn't mean your plushie would turn out well. This is where I come in. I have figured out through trial and error, where the best places to cut are. Of course, anyone could learn what I have learned but not everyone has that kind of time. I do.
So now, I want to show you a little bit more of what I do. We will use Umbreons tail as an example.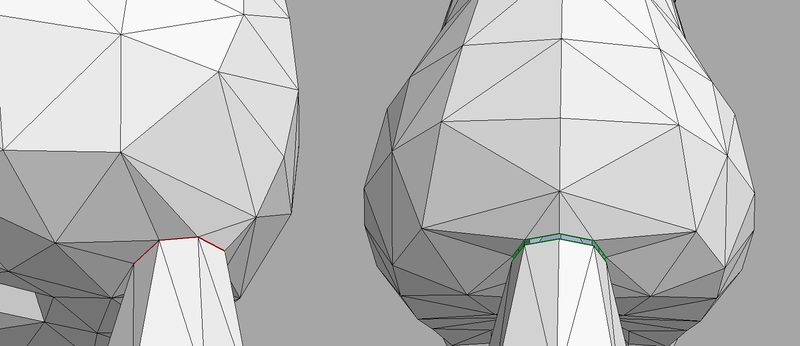 First I tell Headus where to cut. The red lines at the base of the tail are the where. Then once I have it go all around the tail, I have it popped off. Pretty much, each red / green line is where a seam would be on the finished animal. Obviously, a solid tail would never flatten out right, so next I cut along the underside of the tail (to help hide that seam.)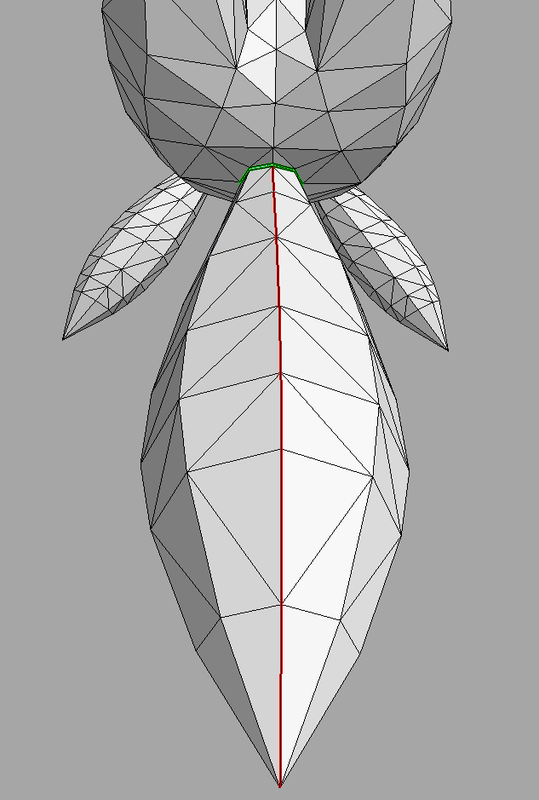 But wait, if you look back to the picture of Umbreon, you will notice that he has color bands on his ears and tail. Sometimes, we can't do anything about that in this part of the process but in Umbreons case we can. His color bands divide the tail into sections so we can easily cut the model to accommodate that. This way they will be placed in the perfect position. So now all we have to do is figure out exactly where they go.
Now of course, I can't edit the model more than cutting, so sometimes the perfect position is where the mesh will let you put it. But it's a plushie and no one expects a one hundred percent duplication. That's what 3D printing is for.
I chose to place the color band near the end of the tail in a spot where it felt like it should go. You will also notice, I only placed one seam down one length of the tail rather than two. I did this because I found, there was really no reason to have two. And sticking it on the underside, helps to hide its presence. Now you would never know unless you looked for it.
Now we are finished with cutting portion. Next up, Flattening it all out.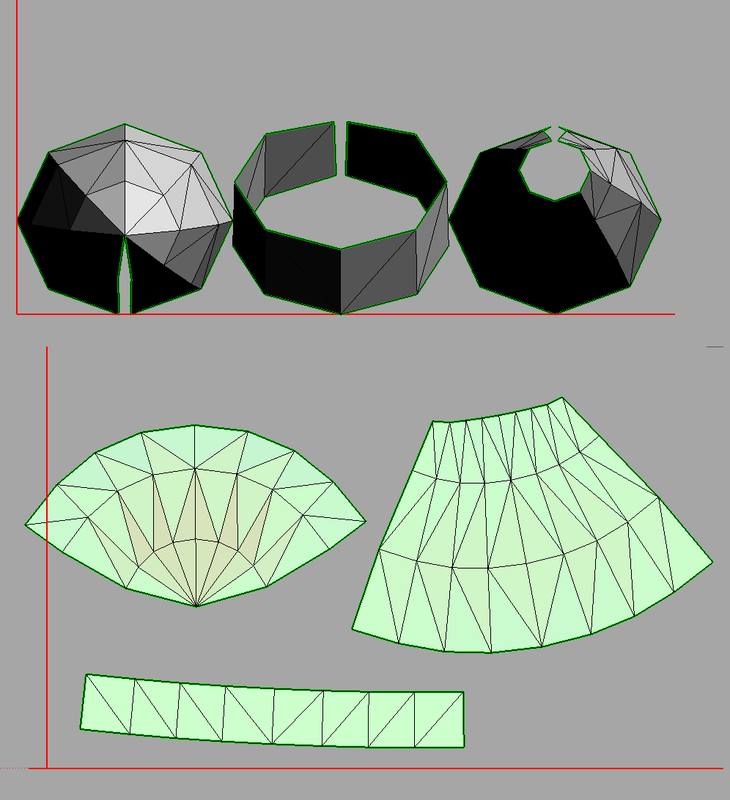 Here you can see how each piece went from a 3D cut out to a flat 2D object. These final flat pieces are the pattern. In this case you would cut out one of each, using black for the two larger ones and yellow (or a light blue if you were doing Shiny Umbreon) for the band.
From here, what I typically do is blow say a body piece and then measure it on my screen until it gets big enough for the size I want. Then each piece will be proportioned and sized correctly. I don't have a printer so after that I trace each piece right off my screen. I won't lie, it's painful. But it works for me.
Thankfully, for those that have a printer, there are other ways. There is a number of free programs out there that will tile the image and print it out. The hard part there is you can end up with a number of body parts split between multiple pages. Which needless to say, can make things confusing.
Another option is to make use of Kinkos or other print shops. Just save the file to a usb drive and head over there. Ask 'em to print it onto one massive sheet of paper and then everything will be sized and intact. From there all you have to do is, cut it out. Sadly, their services aren't free, but generally it's not expensive either.
Now at this point, I generally transfer the cut out pattern to cardboard because I feel it helps keep the shape better. And shape is very important with this stuff. Each little curve in the cut out really matters when it comes to assembling the pattern in cloth. In a lot of ways this is less like plushie making and more like a 3D jigsaw puzzle made out of fabric. That sounds crazy I know, but the upside is that each piece kind of just falls into place once you have it figured out.
Now I know not everyone has time to assemble and sew their own cloth 3D jigsaw puzzle so for those (or for people that can't sew, or just lazy. I don't judge.) I have higher tiers of commissions.
For $5
order will get you just a pattern, with basic labeling. An example would be something like "Front outside leg x2 Flip one" written on the part it belongs to. Enough to get you started, but you will still have to figure out how it all assembles from there.
For $10
I will do everything i can to help you find the perfect 3D model file for the critter you want made. If for some reason we cant find the one you want (it happens, there have been a few i want to do but cant find them anywhere.) I will refund the extra five dollars and we can figure out a different animal to make.
For $15
you will get not only all that but also a detailed tutorial explaining not only how to assemble, but also it will come with good screen shots on each piece showing you how they all fit together. This is exactly how I put 'em together.
Now for the good extras.
For $30
I will not only design your pattern, but I will assemble and sew it together for you. A note here: This will be made from cheap fleece. Expect some back and forth communication for this extra. We will need to figure out overall size, color of fabric, shade of said fabric (hot pink vs normal pink for example) and shipping. We will need to figure all this out before work begins. I will also require you to pay me the cost of materials upfront, plus shipping costs if i need to order anything online. Also expect this to take some time. In a lot of cases I have order the fabric online in order to get the correct shade, and shipping time will have to be accounted for.
For $60
I will do all the above but make your plushie out of ultra-soft Minky fabric. This is pretty much the prime plushie fabric. As with above, we will need to figure out the details before work can start, and the cost of materials needs to be paid upfront.
Sizes:
Size will make a large difference in price, for both materials and shipping. The prices listed above are for your typical stuffed animal. Between 10 and 15 inches in length. ( 25.4 cm to 38.1 cm) Anything larger then that and we will need to adjust the price a bit.
Shipping:
Each animal will be placed into a ziplock bag to keep dust off during shipping. As for price we will need to figure out what it would cost prior to shipping. Shipping will be the final payment before the order is completed.
Payment:
Yes i will take payments on larger orders. However i will not start work until at least the materials costs have been covered. If for some reason you need to place a hold on the payments, work will stop until the payments start moving again. If you decide you don't want the animal, i will finish it myself and add it to my Etsy shop.
All payments will need to be delivered through PayPal.
Refunds:
After an animal has been delivered, i will not give a refund. There will be ample pictures to show you everything as it's being made. However prior to delivering if you want to cancel the order i will do that but i cant return the money for already bought materials.
For now i will only be opening up five slots to test the waters.
1.
2.
3.
4.
5.
I think that about covers everything if you have any questions feel free to send me a note.
An example of my work so far: